The Texas Beekeepers Association Legislative Committee was invited to attend the Texas Farm Bureau's "Legislative Ag Day" and sent TBA President – Ashley Ralph, Vice President – Dodie Stillman, and Past President – Chris Moore to speak to Texas legislative staff in a casual and adventure-filled day at the Luling Foundation.
Farm Bureau put this event together with a goal of providing legislative staff with information as well as contacts in the agricultural industry throughout Texas. This event helps to create foundation of knowledge and curiosity in how agriculture and rural life affects Texas citizens. Hays, Travis and Caldwell County Farm Bureaus worked with the Luling Foundation and the Texas Ag Council to host the Legislative Ag Day on June 9.
"Because of the growing urban population in Texas, most of the legislators and their staff are from urban areas, and there are fewer and fewer rural representatives and senators," Joe Morris, Travis County Farm Bureau president and our TBA lobbyist, said. "What we are trying to do is give urban legislators and staff, who otherwise have no contact with agriculture and rural life, a glimpse into what agriculture is."
Our group was thrilled to attend this event during a warm, breezy summer day – as we spoke to the legislative staff, a herd of wild boars crossed the fields, cattle were herded into chutes, large farm machinery was lined up in the background of the 90 year old model Luling Foundation farm.
Staff members for Texas senators and representatives were able to create relationships that will aid them during the 2023 session as they write and evaluate potential legislation. The day's activities included stations to show different aspects of farming and ranching. We had an uninterrupted opportunity to talk about the importance of bees with these enthusiastic young adults.
After an overview of the bee industry, the contribution of honey bees to agriculture as a whole as well as the U.S. and Texas economy, we were asked a number of questions by interested staffers in regards to labeling laws, ag valuation, and bee health and it was a wonderful opportunity to educate and excite about bees and beekeeping.
Check out this article By Julie Tomascik to read more: https://texasfarmbureau.org/farm-visit-grows-ag-knowledge-for-legislative-staff/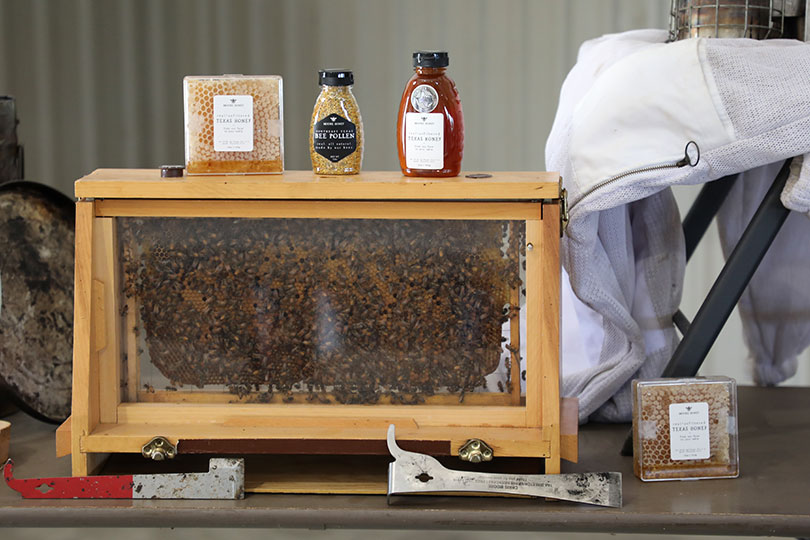 "It's important to get out and hear from cattle producers, bee producers," Will Rider said while speaking to Farm Bureau reps. "I think just hearing from the sources about issues that need some work is one of the most important things that I'll take from this." Will serves as the legislative director for Rep. Stan Lambert, noted Texas is growing increasingly urban. Lambert's district includes Taylor, Jones and Nolan counties, covering both urban and rural areas.
The event was an opportunity to cultivate relationships with legislative aides and answer questions and concerns they might have and we'll continue to offer expertise in issues related to bees and beekeeping.